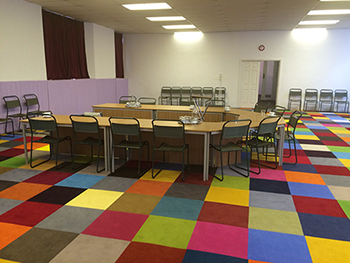 We would like to take this opportunity to thank all our clients for their business during 2016 and wish them and all our friends a very happy Christmas. As usual we are always open for bookings.
Our first floor, town center venue attracts a wide variety of groups and business to our facility, and we are now interested in attracting new groups, companies, associations and clubs to this excellent location.
Our main hall is one of the largest available in the area measuring 16m x 10m and like all our rooms is available seven days a week.
Room 2 is presently booked on a permanent basis leaving the main hall and rooms 1 and 3 available for casual hires along with our duplex office suite. Room 1 measures 4.5 x 2.3m and is ideal for smaller meetings or as a treatment room whilst room 3 measures 3.2 x 3.2m and is perfect wherever your imagination takes you. The duplex office suite measures 4m x 4.4m approx and 3.7m x 3.4m on its upper level also benefits from its own self contained toilet and is remarkable for the amazing natural light that flood through its huge windows. This would be ideal for a small business looking for their own self contained property at a remarkable price.
We also offer to link anybody leasing our rooms to our website, Facebook or Twitter page as an added value benefit, plus all our customers recieve free use of our hi speed Wi-Fi connection.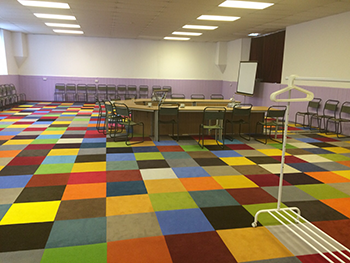 All rooms other than the main hall can be leased on a long, short or casual basis, based on a minimum two hour booking.
All enquiries should be made in the first instance to admin@oldauctionrooms.co.uk or to John on 07887 568084.
If you have used the 'Old Auction Rooms' why not post your opinion of us and our facilities on Facebook.